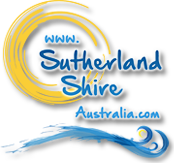 Sutherland Shire, Sydney Australia - Tuesday, 28 June - 10:41pm

About Bundeena
Aboriginal Heritage
Maianbar and Bundeena are still rich in traces of their original inhabitants: the Dharawal people. Simplest to recognise are middens - piles of shells from seafood feasts. Grinding grooves are another sign of the Dharawal. There are also the remains of bush ovens, where animals were cooked. Less obvious are carvings, paintings and stencils. These show subjects such as creation, birth, Dreaming figures and food. The best-known Aboriginal rock carvings are on Jibbon Point. According to Aboriginal archaeologist Les Bursill, as many as 900 Dharawal lived around Port Hacking before white settlement. They would have moved up and down the coast, trading and looking for food sources. They lived in hearth groups of 12-18 people and Mr Bursill estimates there were between two and four of these groups in Bundeena alone. Food sources included wallaby, plants, birds, shellfish and fish. Carvings reflect some of these food sources.
What to do in Bundeena
Don't miss the Dharawal engravings, an easy 1km beach walk to Jibbon Point from Bundeena. These superb Aboriginal rock engravings were made by the Dharawal, who lived in the Bundeena region up to 5000 years ago.
Take a whale watching cruise or view the annual migration (June to October) from the cliff tops of the Royal National Park, just south of Bundeena.
Walk the Royal National Park Coastal Track (Australia's oldest National Park) or parts of the full 26km stretch.
Ultimate in weekend decadence book into a 5 STAR B&B. Click to view Bundeena Accomodation.
Explore by paddle power - day or even a "Night Owl" Kayak tour with Bundeena Kayaks
1st Sunday of each month experience the Bundeena & Maianbar Art Trail - 27 local artists open their studios. High-calibre artists include the Australian-Chinese painter Jiawei Shen who was commissioned by the National Portrait Gallery to paint Crown Princess Mary.
Call into cafe Manna for a coffee and a bite to eat and head to the Post Office next door for a great range of gifts and goodies.
Where to Stay
From absolute beach front to secluded bush settings, overnight accommodation in Bundeena and Maianbar is available in accredited B&Bs, holiday cottages and houses, home stays, or at the Bonnie Vale camp grounds. You'll find something to suit all tastes and budgets. Click to view Bundeena Accomodation.
Useful Links