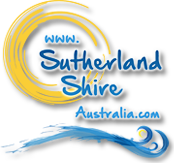 Sutherland Shire, Sydney Australia - Friday, 1 December - 4:38am

Aboriginal History
Prior to European settlement the region was home to an Aboriginal community, the Gweagal people, a Dharawal speaking clan.
Evidence from Curracurrang, an area in the Royal National Park, shows occupation dates from about 8,200 years before present, making it one of the oldest coastal sites in the Sydney region.
The Gweagal people lived mainly by the salt water bays and estuaries of Port Hacking, they also used the fresh water resources of the upper Hacking River, Heathcote Creek and the Woronora River.
The Gweagal people were said to be the guardians of the sacred white clay pits on their territorial land, now known as the Kurnell Peninsula. They used the clay to make body paint, medicine and when mixed with local berries it was also used as a dietary supplement.
The tribe also looked out for whales from the Kurnell Peninsula. The whale was the dreaming figure for the Dharawal and an integral part of their community and beliefs. The connection appears to be the role the whale played in hunting activities, as 'bringers of vast foods'. Carvings of their totem still exist on the plateaus where the elders once looked out for the whales to arrive.
Dharawal rock paintings, engravings, stencils, grinding grooves, shell middens and rock shelters are present throughout the Shire.
To learn more about Dharawal culture you can join a Discovery tour in the Royal National Park. You can also arrange a guided tour of the rock engravings at Jibbon Point, near Bundeena. For more information phone the discovery coordinator on 02 9542 0649.