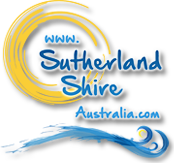 Sutherland Shire, Sydney Australia - Friday, 1 December - 5:27am

How to get here
The Sutherland Shire is located 25km south of Sydney's CBD and is accessible by car, rail and bus. Most international and domestic airlines fly into Sydney Airport, from there it's a short 20 minute drive, making The Shire a convenient destination to visit.
Driving
If you're driving from Sydney city, or Sydney airport, look for the signs that lead you towards Wollongong, this is a region about an hour south of the Shire. Similarly if you're heading north from Melbourne, Canberra, or Wollongong follow the signs that lead you towards Sydney.
There are three bridges leading into the Shire from the northern side; Captain Cook Bridge, Tom Uglys Bridge and Alfords Point Bridge. The quickest route from the city is along South Dowling St, which turns into Southern Cross Drive near Sydney Airport. As you approach Brighton-Le-Sands veer left onto General Holmes drive and continue along the Grand Parade. After about 15minutes you will approach a T-intersection, turn left onto Rocky Point Rd which will take you over Captain Cook Bridge and voila you're in the Shire!
Check out our local maps page to see where to go once you arrive and for up to date roads and traffic information visit: Live Traffic NSW
Approximate Driving Times:
Sydney City to Sutherland Shire: 25km/30minutes
Wollongong to Sutherland Shire: 66km/55minutes
Train
Sydney Trains operates train services to the Shire every 15-30 minutes, they run on the Eastern Suburbs & Illawarra line. If you're traveling from Sydney city there are direct trains from the following stations; Kings Cross, Martin Place, Town Hall and Central. The train ride takes approximately 30-45 minutes. If you're coming from the airport you'll need to change trains at Wolli Creek Station to get on the Eastern Suburbs & Illawarra line.
Visitors coming from the South, including Nowra, Wollongong and Dapto can travel via the South Coast train line.
There are 12 stations within the Shire , each have ticket purchasing facilities. To view the Sydney Trains timetable and maps click here: Sydney Trains
Hire Cars
The major Australian car hire services are available at Sydney airport and other Sydney locations. Click on the links below for further information.
Bus
There are two shuttle bus companies operating within the Shire. They transport visitors from the airport, cruiseships and other Sydney destinations. Click on the links below for further information.
Taxi
There are several taxi companies that service the Sutherland Shire area. Taxi fares from Sydney city to the Sutherland Shire cost approximately $70-$100.
Click on the links below for further information.